Think of it as Industrial Lumber
Structural aluminum, also known as T Slot aluminum profile, has been a staple in industrial automation for decades. Typically used to fabricate safety guarding, machine bases, component parts racks and purpose-built carts, the number of manufacturers producing this family of product is vast. While each manufacturer will list the features it believes differentiates its product from the rest, in the end, the aluminum profile itself is really nothing more than dimensional lumber.
Made from bauxite, it can be fabricated for true to size within a tolerance, capable of resisting twisting, bending and buckling and easily cut and machined with generally available tools. Profiles are available with smooth outer surfaces and a clean appearance (no t-slots), making them desirable for use in making furniture and office dividers, or clean room equipment.
No Welding, Grinding or Elaborate Fixture Required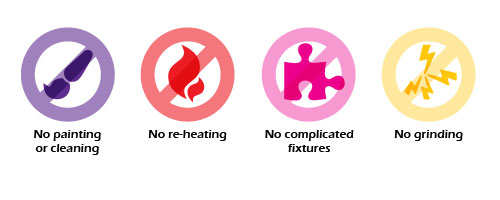 Structural aluminum solutions are often compared to welded steel structures. While the material cost of steel is significantly lower, the cost of the total solution is quite a different story.
Benefits of T slot aluminum profile assemblies:
do not require elaborate fixtures designed to hold components in place as they are being joined together
do not require grinding to clean-up connection points
do not need to be re-heated, so twisting and warping can be straightened
do not require cleaning and painting
This Isn't Brain Surgery
While the dimensional tolerances that structural aluminum is produced to are often in the thousandths of an inch range, there are some challenges for which it is not a viable option. Machine tool bases, vibration sensitive machining and assembly, caustic wash down and stamping applications are better served by traditional steel and stainless steel solutions. And even though T slot aluminum profile solutions have met standard industrial automation demands for decades, anything requiring highly rigid, vibration resistant platforms requires high-mass structures.
Connectors, Accessories and "Gee Whiz" Plates Included
Every manufacturer of T slot aluminum profile products offers an extensive array of fasteners, accessories and adapter plates to enhance the connection and look of the structure. Commonly included are accessories such as connectors and fastening hardware, designed specifically for the geometry of the aluminum profile, as well as hinges, handles, locks, leveling feet and threaded inserts.
Items that mechanically retain wire mesh and plastic panels, manage wiring, cable and plumbing, and adapter plates that provide convenient mounting points for third party products are also readily available.
Aesthetics are an important consideration when deciding to use structural aluminum. Accessories that help provide a clean appearance include end caps, fastener covers, transition moldings and t-slot fillers.
But Wait, there's more...
Almost every producer of structural aluminum solutions offers some type of design assistance. These services range from production drawings or bills of materials from your hand-drawn sketch, to on-line CAD programs you can use to design an assembly, or files you can add into your CAD software that allow you to produce detailed drawings of your entire solution. Accessories, connectors and adapter plates are often included in these design tools.
Call for the Right Advice Fast
Factory automation specialists understand the safety component involved with structural applications, in addition to a variety of framing solutions. When choosing structural aluminum or t slot profile solutions, look for a trusted partner to help you identify your true needs, situation and future requirements.
The correct partner for you will take into account your functionality needs, as well as other considerations such as aesthetics, strength, ease of assembly and modular and flexible adaptations. Factory automation specialists should be interested in making sure you are comfortable with your choice of automation before you submit a funds request, while you're installing the part, and how it's functioning for you 3 years later.
To learn more contact Electro-Matic Products at 248-478-1182 or send us a message today.