ROTARY INDEXERS ALLOW YOU TO PERFORM MANY TASKS SIMULTANEOUSLY
The birth of automotive mass production can be attributed to Henry Ford. His improvement to the assembly line, established by Ransom E. Olds, cut the manufacturing time of a Model T from a day and a half to a mere ninety minutes! Ford's genius in automating the assembly line not only increased production, but improved product consistency.
Today, almost everyone can envision an assembly line. Remember the Lucille Ball "skit" in the chocolate factory?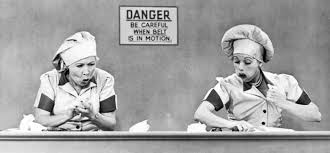 Automated production lines typically consist of distributed workstations within the plant, connected by a mechanized work transport system that moves the parts from one workstation, or nest, to another in a pre-defined sequence. Automated production lines are usually expensive to implement, and once fixed, their layout is relatively hard to change.

One shortcoming of a linear assembly line is that the number of stations along the conveyor can be quite large. If the tooling, or nests, necessary to locate parts accurately is complex, it can be difficult and expensive to reproduce in large quantities.
Rotary indexers introduce a degree of efficiency to the assembly line concept by placing some of the tasks performed in a linear process to a rotary process. Multiple tasks can be performed at the same time, in a smaller area, with fewer "nests." Rotary Indexers generally require less floor space and are less expensive than other configurations.
DEDICATED, FIXED AUTOMATION AND TODAY'S SHORT-RUN PRODUCTION ENVIRONMENT
With so much attention being paid to eliminating product recalls, large production runs are not as popular as they once were. Today's mass customized production environment requires nimble procedures and quick changeover times.
With this in mind, it isn't likely that all products produced on a specific production line have identical process requirements. Each product may have its own lengthy list of dedicated tooling. In the case of rotary indexers, some processes may not require the same number of stops, or positions.
Versatile rotary indexers can be reprogrammed according to the product being produced, enhancing the agility of your production process. It could be as easy as mounting a different dial plate, programming the appropriate motion and starting production.
CHOOSE YOUR WEAPON
Rotary indexers are available with: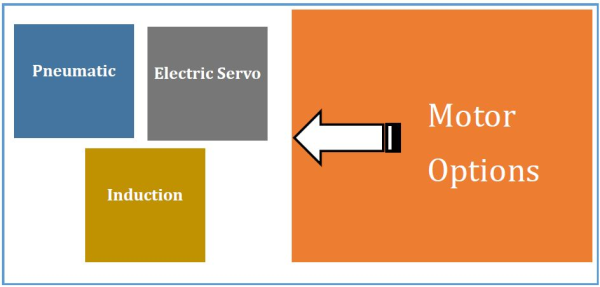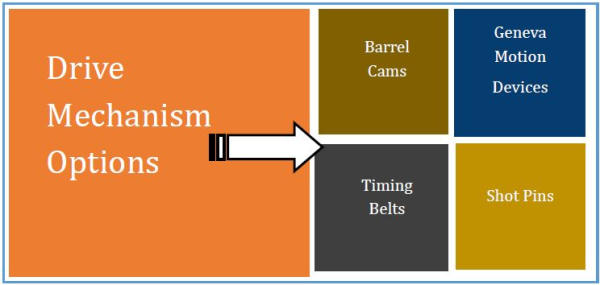 Rotary indexers can be supplied with hollow centers to allow for the in-feeding of components, the location of equipment or the placement of inspection equipment. Many manufacturers offer blank dial plates, rotary unions, slip rings and pick and place units to customize the rotary indexer to your process.
And, like so many other factory automation products, rotary indexers have kept pace with the changing demands of industry. They remain a valuable option for today's manufacturing practices.
Ready to learn more about rotary indexing options for your manufacturing processes? Call us today or send a message.