That's Right, Expecting Bad Things is a Good Thing
As a Plant Manager, your job is to keep things running smoothly and efficiently, minimize production downtime and eliminate surprises. Over the years, through experience, you've learned to recognize when something "sounds different" or "shakes more than normal." You know that anticipating the bad things is the primary and most practical insurance policy for manufacturing equipment maintenance.
In your facility, you've come to know which electric motor to keep in stock and which output card has a long lead-time. Even though you've honed the equipment management and maintenance processes, you're still uncomfortable when the place is running smoothly and no one is complaining. Others might view that as being negative, but you've learned that expecting problems has served you well. In fact, from your viewpoint, expecting failures is like seeing the glass half full, not half empty!
Just Like Child's Play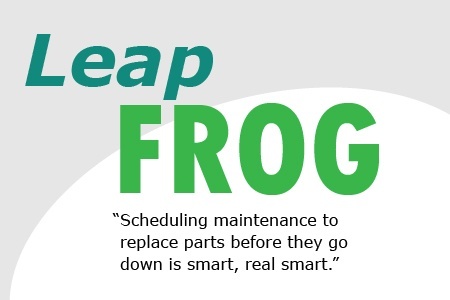 Knowing which parts are critical to have on hand can keep downtime to a minimum. But you also know that keeping around several spare parts may not be a profitable solution to reliability issues either.
Keeping a busy, complex production facility running can be a lot like the game of Leap Frog. So, on a few pieces of equipment, you have gone so far as to schedule maintenance to replace mission-critical parts before they go down. The pulled parts are then completely repaired and ready for the next scheduled maintenance event. Smart, real smart.
Your Own Insurance Policy for Manufacturing Equipment Maintenance
You've taken the time to identify the parts of your production line that you can't live without; even gathered all the information about those parts;
repair manuals;

spare parts lists;

operation manuals;

lead times;

maintenance intervals; and

life expectancy.
You've learned through trial and error how to repair most of the important components. You've even trained your maintenance staff how to make the repairs, and, for the most part, you've been able to avoid those component failures that cause the greatest disruptions.
But let's face it. There are many more items that you'd like to add to your preventive maintenance program, you just can't seem to find the time.
Is There a Better Way?
While all of the components of your equipment management and maintenance program address a critical piece of the overall picture, the missing element may be quality control. Is there a better way to manage a reliable insurance policy for manufacturing equipment maintenance?
You might be surprised to know that many of the vendors that you rely on to supply you with new components, are also authorized repair centers for those parts. In many cases, the part manufacturers require their distributors and representatives to provide cradle-to-grave support as part of their contractual agreement.
Quality control is a vital, but often overlooked, component of reliability. Factory authorized service and repair centers exist solely to make sure you stay a customer for life, because your total customer experience is important, not just your experience during the warranty period.
Don't Take On More Than You Have To
Equipment reliability is a decisive factor in overall profitability and competitiveness. One of the most critical factors in reducing manufacturing costs and increasing return on investment for your assets is your equipment management and maintenance program. It's how companies keep their assets living to the ripe old age for which they were designed and built.
A company that wants to be world class has no choice but to be world class in its management and maintenance efforts. But you don't have to go it alone. Look for a trusted partner to help you identify your true needs, situation and future requirements. The correct partner for you will be interested in making you comfortable with automation before you submit your Funds Request. They'll also support your efforts during installation and care what you think about your experience three years later.
Interested in learning more about our cradle-to-grave approach for product specification, installation and scheduled maintenance tracking? To learn more contact Electro-Matic Products at 248-478-1182 or send us a message today.