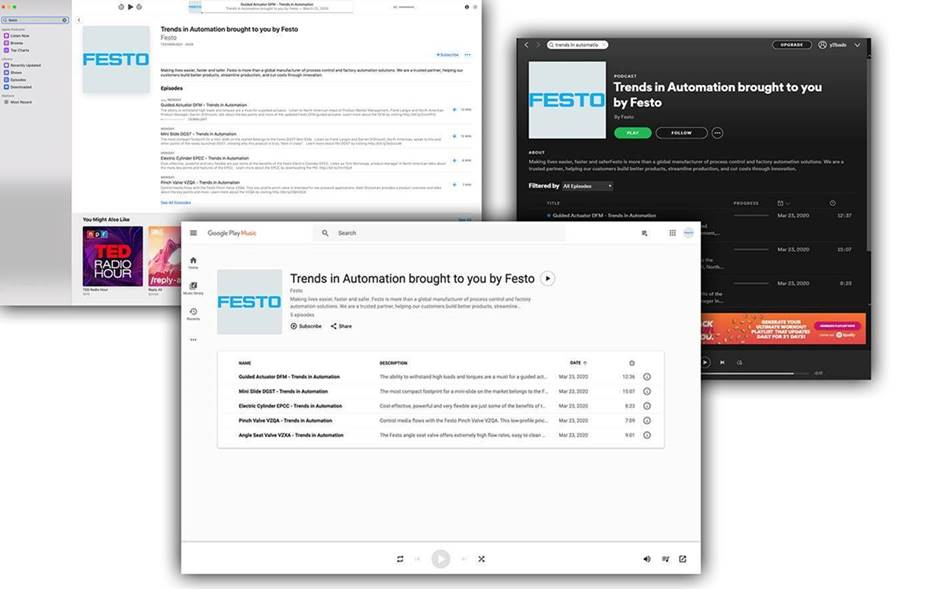 Festo is proud to announce its new external Festo Trends in Automation Podcast channel. Many of you enjoyed their internal podcast series, but now they have updated the content and opened it up to all external audiences. This gives customers and distributors the opportunity to listen to Festo content while at home or on-the-go. Each podcast is designed to provide an in-depth look into their product portfolio and provide features, benefits and tips that you may not get within a video or literature piece.
Each podcast is recorded by a Festo Product Manager who provides the listener with a few minutes of the need-to-know critical information. The channel will continue to grow with even more product spotlights as well as campaigns and engineering tools. The current episodes that are now available are:
Guided Actuator DFMwith Frank Langro and Darren O'Driscoll
Mini Slide DGSTwith Frank Langro and Darren O'Driscoll
Electric Cylinder EPCCwith Tom Worsnopp
Pinch Valve VZQAwith Matt Glicksman
Angle Seat Valve VZXAwith Matt Glicksman
Currently there are four ways to access the podcast:
They are currently working on having all podcasts translated in Spanish. Will notify you as soon as they are ready!
They welcome your participation as a means of creating your own podcast, providing suggestions and/or comments and being a part of the channel. We look forward to your feedback!