The Cost of Labor
We're going to get down to brass tacks here quickly, so hold onto your hat and stick with us. OK? If the goal of implementing automation is to replace humans, how do you decide what would be a "good price?" Calculating industrial automation ROI isn't as simple as it first appears.
For instance, with the availability of temporary staffing at $11 to $15 an hour, replacing humans with automation becomes a difficult decision. While it is very possible to implement reliable, quality automation at cost effective prices, doing it with a 1-year payback is really tough. Take, for instance, an employee earning $12 an hour. That equates to about $25,000 annually. If you are operating two shifts, that means there is approximately $50,000 in wages during a one-year period. So in this example, to replace the human labor with factory automation, and have that automation "paid-off" in one year, means that automation cannot cost more than $50,000.
So, is the goal to replace humans or is the goal to eliminate labor costs?
If the goal is to replace humans, why does the solution need to pay for itself in a year? If the goal is to eliminate labor costs, is a 1-year payback reasonable?
When it comes to the true cost of automation, there's more to the decision than you think. It can't only be about replacing people.
The Cost of Quality
You've probably heard that the 'cost of quality' isn't the price of creating a quality product or service; it's the cost of NOT creating a quality product or service. But what is the true cost of bad quality?
Simply put, each time work is redone, the cost of quality increases. Things like rework of a manufactured good, retesting an assembly or rebuilding a tool are clear examples. While adding up the hard costs of correcting a defective product is fairly straight forward, calculating the damage to your corporate reputation is anything but easy.
Customers have come to expect a quality experience in every aspect of their dealings with a company, and they expect that quality experience to last the entire relationship; well beyond the act of purchasing a product. If meeting that quality expectation is the real goal of your company, does it make sense to limit the automation options for achieving improved quality to only those that can be paid off in a 1-year period, or those based solely on the hard costs of poor quality?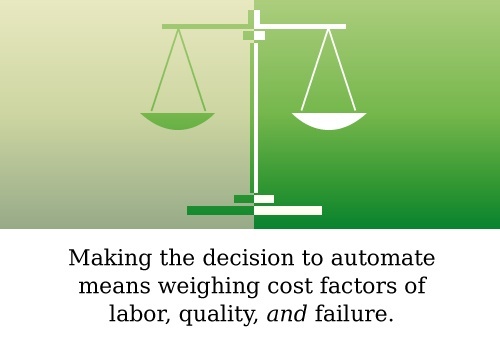 The Cost of Failure
The scope of competitive rivalry in the cell phone industry has propelled the sale of mobile devices to new heights. Driving the competition are consumer demands for:
Better services

Lower product costs

Incorporation of the latest / newest technology

Customized products and accessories
The demands correlation is relevant no matter what industry you serve: consumers expect a variety of products, offering the latest in options and convenience, with exceptional service, to be readily available, when the decision to purchase is made.
Your customers are no different and have an expectation that they can receive the latest in options and convenience, with little delay. So, if your manufacturing processes require you to produce large numbers of product with little variety, you had better accurately predict your customer's demands, right?
Have you ever asked yourself what the true cost is to produce large amounts of product that don't satisfy your customers' wants? If your processes have long, costly changeover times that prevent you from making fewer products of more variety, what is the price paid for having all that unwanted product sitting on the shelf while you "spool up" for making the products your customers really desire?
And what happens if consumer buying developments change in your product market while you're in the midst of producing another batch?
Even if you don't consider the price of an unhappy customer, which can be very high, why would you limit the price to automate a process to only those solutions that pay for themselves in 12 months, even if a better (and potentially more costly) solution would allow you to react much faster to changing demand?
The ROI of Partnership
An educated customer is both a blessing and a challenge. If you are capable of keeping pace with changing demands, an educated customer is likely to identify your company as one with whom they want to do business. The pace of business today dictates that continuous improvement be a fact of life.
Years of experience and manufacturing process knowledge give automation specialists the capability to help you recognize technology trends in your product niche that will assist you in bringing your buyers the products that resonate with their current concerns and priorities.
It's hard to calculate the ROI of a trusted partner, but when you find one more interested in helping you solve your issues than in selling you something; one that will listen to you and understand your needs because they know something about your business, you're on the right track.
Experience + Care + Right Solution = Trusted Partner
If you are looking for help to identify the true price of automation and how it can benefit you and help you stay relevant to your customer base, call us and speak with the manufacturing process automation experts.