Times Have Changed
When asked about color options for his Model T, Henry Ford reportedly said,
"They can have any color they want, as long as it's black."
Let's face it. In today's global marketplace, the speed of business is accelerating, competition is increasing, and competitors are emerging from across the globe and around the corner. The movement towards mass customization means the once prevailing high volume, low mix model of manufacturing is rapidly giving way to lower volumes and higher product mix.
Along with the powerful movement towards mass customization, consumer demands for product consistency and quality have reached unprecedented levels. Universally high standards for product quality and consistency are commanded, regardless of where or how goods are manufactured or consumed.
The Bad News First...
Manufacturers face so many obstacles trying to maintain low labor costs while at the same time addressing the need for high levels of production. When you throw in the volatility of emerging demand from new markets, it makes it even harder to predict and plan for the low volume / high product mix of today's manufacturing environment.
For those manufacturers who moved facilities abroad to leverage lower labor costs, the reality is quickly emerging that
Maintaining high quality products using manual production methods is not a sustainable, long-term strategy.
Labor, in and of itself is challenging, not just from a cost perspective, but also from a supply and skills shortage. More sophisticated manufacturing processes need skilled labor, but employers are finding it harder to fill new positions with workers who possess the necessary experience. Shortage of labor will only get worse as the aging, skilled employees continue to retire.
Additionally, the large, centralized production plant is becoming a thing of the past. Successful manufacturing operations need to be leaner, more agile, and operate at higher efficiencies than ever before.
The Good News Is...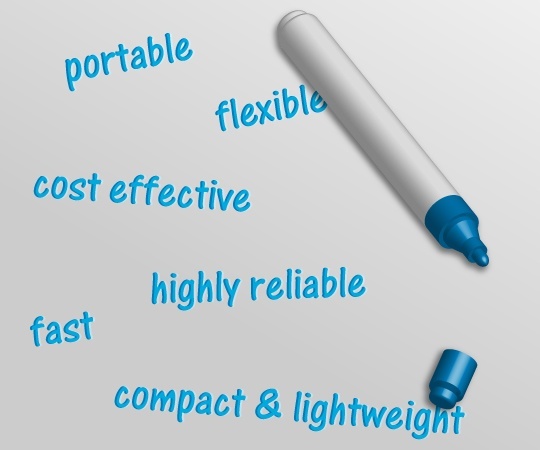 There are ways to help achieve the responsiveness necessary to compete in today's rapidly changing global markets. Here are 6 essential requirements for agile manufacturing:


Manufacturing equipment must be easy to set up and implement into production operations. Ideally, it should be portable.

Manufacturing equipment should be flexible.

Manufacturing equipment should be cost effective.

Manufacturing equipment should be highly reliable.

Manufacturing equipment should be fast.

Manufacturing equipment should be as compact and lightweight as possible.
The factory of the future will be small, flexible, movable, and local because to operate effectively in this global environment, agile manufacturing is key. In fact, one of the ironies of rampant globalization is that it ultimately leads to a return to local production.
The Future Is Now...
The requirements for agile manufacturing have helped drive the development of lightweight robotics and desktop automation solutions, which are increasing in popularity and are more common in today's manufacturing automation. By providing scalable and modular functionality in increasingly flexible and compact packages, these solutions are dramatically changing manufacturing by enabling automation on a smaller and more flexible scale.
Among the tasks and processes these types of solutions are now employed:
Feeding, screwing and mounting small components

Setting adhesive points

Electronic testing (approach to contact points and resistance tests)

Flexible position of work pieces and components

Logistics and storing operations

Sample preparation

Dispensing

Transport

Distribution
Implement Agile Manufacturing Today
Not sure how these and other automation solutions can help you increase your manufacturing agility? Look for a trusted partner to help you identify your true needs, situation and future requirements. By investing the time with an experienced factory automation specialist up front, you will be pleasantly surprised at the broad variety of cost effective automation that can be configured just for you.
To learn more contact Electro-Matic Products at 248-478-1182 or send us a message today.