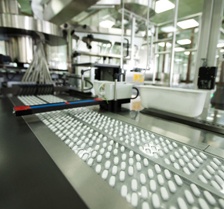 Innovations in factory automation processing capabilities have made machine vision systems a powerful commodity. Advancements in the development of embedded vision products and new interfaces have increased processing power and reduced cost and operational complexities.
As the price point has gone down and productivity has gone up, so has the increased demand for machine vision systems, prompting the invention of wider applications.
Below are five ways improvements in vision systems are saving companies, fueled by factory automation, a lot of time and money:
1. Imaging Technology And Image Processing
Industrial cameras rely on image processors embedded in microchips. Microchip manufacturers continually improve microchip performance, features and functionality.
In turn, this allows the industrial camera manufacturer to make smaller, faster, better and cheaper cameras to improve productivity and cut back on costs.
2. Collaboration With Factory Automation Systems
Because machine vision has become "mainstream" and more affordable, manufacturers of machine vision components and manufacturers of other factory automation components are now introducing products that communicate with each other.
This creates a seamless production environment whenever a replacement part is needed, or if you want to upgrade your factory automation system with machine vision components to improve productivity.
3. Imagers and Lenses
Imagers and lenses provide continuous improvement for machine vision. The increased popularity of imaging technology over the last decade has prompted demand for a wide variety of lenses, suitable for all types of analysis.
To optimize high-performance machine vision cameras, they need to be matched with the right lenses. As the interaction between cameras and lenses improves, machine vision software becomes more reliable and offers better cooperation with other factory automation products, allowing for integrated solutions that increase productivity.
4. Machine Vision Replaces Limiting Proximity Sensors
Replacing proximity sensors with machine vision improves productivity. Proximity sensors provide limited information about whether a part is present or not. Machine vision provides much more of this information.
The inclusion of cameras in cellphones, tablets and computers has offered a greater opportunity to consider machine vision for more manufacturing solutions. Human Machine Interfaces (HMIs) come in exactly the same sizes as a tablet, cellphone or PC. It's just industrially hardened – so there's no reason to be intimidated by technology you already use on a regular basis.
5. Allows One Person To Be In Multiple Places At Once
High-speed networking and enhancements in imaging technology allow machine vision solutions to be positioned remotely. Machine vision manufacturers also provide functionality by allowing the user to broadcast a camera's image onto an operator interface (HMI). Images broadcast on HMIs allow machine operators to view what a remote camera is "seeing" so that the operator has greater visibility to many locations.
Due to the reliability, precision and versatile nature of the improvements made to machine vision systems, diverse industries from life sciences to food production have greatly benefitted from them.
While vision systems add accuracy and increased productivity to your factory automation process, they also measurably reduce material costs related to error scraps, labor costs, quality-related costs and more.

Ready to learn more about how machine vision systems improve productivity? Give us a call at 248-478-1182 or send us a message or send a message.