The #1 secret to implementing an effective industrial machine safety system is a matter of convenience.
Think about it. If a safety system is inconvenient for the operator, then either production suffers, or the system will be defeated. Simply put, barriers to maximum safety for operators and machines are things like:
machine access points that are poorly located;

guarding that obstructs the operators' view; and

switches and interlocking devices that are located in out-of-the-way places.
Achieving maximum safety for operators and machines can be done without reducing integrity due to distance between guard and control system. The best and most cost-effective safety control systems should be quick, safe and reliably protect both your personnel and your equipment. Consider these 4 safety component tips that can offer you design flexibility and convenience:
1. TRAPPED KEY INTERLOCKS
A trapped key guarding system is reliant upon the transfer of coded keys between a power isolation switch (or control switch) and a locking mechanism which is fixed on a guard or guard door. The primary and essential feature of the system being that the removable key is trapped either in the guard lock, or in the power isolation switch. The interlock on the guard is arranged so that the trapped key can only be released when the guard has been closed and locked - preventing the key from being returned to the isolator (or control switch). Once the guard is closed and locked the key can then be transferred from the guard to the power isolator (or control switch). Closing the switch traps the key preventing the key's removal while the isolator switch is in the 'ON' position.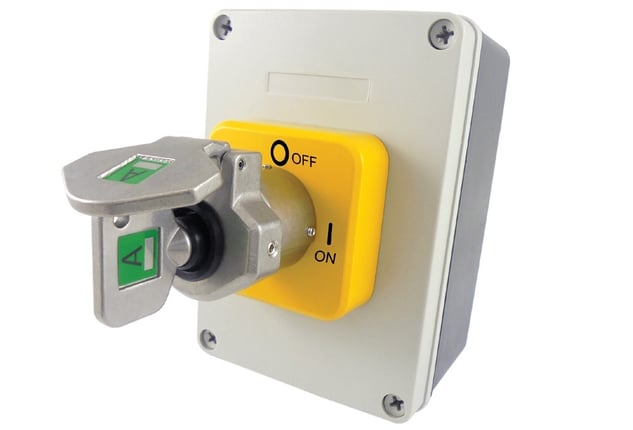 2. SOLENOID LOCKING TONGUE SAFETY SWITCH
Solenoid Locking Tongue Safety Switches have been designed to provide robust position interlock detection for moving guards and provide a lock mechanism to keep the guard closed until the hazard has been removed. They are tongue operated and have been designed and manufactured to fit to the leading edge of sliding or hinged machine guards to provide positively operated switching contacts and provide a tamper resistant, not easily defeatable key mechanism.
3. NON-CONTACT SAFETY SWITCHES
Coded Non-Contact Safety Switches are designed to conform to IEC60947-5-3 and be used as directed by ISO12100, ISO14121 and EN60204-1.They have coded magnetic sensing which provides a wide sensing distance and provides a high tolerance to misalignment after sensing. They can be fitted behind stainless steel fittings and can operate from 4 directions even in extreme environments of temperature and moisture.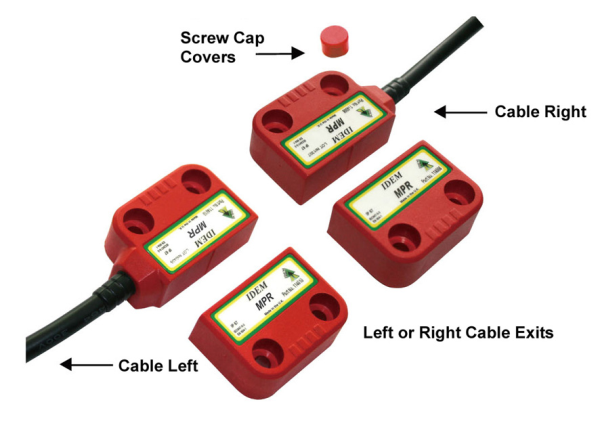 When used in combination with most dual channel safety monitoring relays they can be used to provide up to PLe Category 4 to ISO13849-1. Coded Non-Contact Safety Switches are designed to interlock hinged, sliding or lift off guard doors. They are especially advantageous in the following situations: When poor guard alignment exists; anti-tamper sensing is required; high hygiene requirements exist (e.g. food industry hose down); where long life is required (no moving or touching parts); or where LED status indication is desirable.
4. GRAB WIRE SAFETY ROPE SWITCHES
Designed to be mounted on machines and sections of conveyors which cannot be protected by guards. In contrast to traditional mushroom head type emergency stop buttons, Grab Wire Safety Rope Switches can initiate the emergency command from any point along the installed rope length and provide robust Emergency Stop Rope Pull protection for exposed conveyors or machines.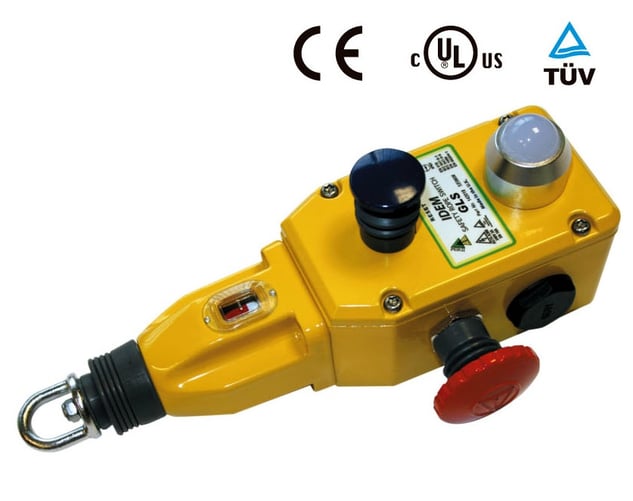 In combination with a dual channel safety monitoring relay, Grab Wire Safety Rope Switch Systems can be used as emergency stop devices monitored for up to Category 4 to EN 954-1 or PLe ISO 13849-1. All conform to ISO 13850 and IEC 60947-5-5 and they have a positive mechanical linkage between the switch contacts and the wire rope. The switches have wire breakage monitoring. On pulling the rope, anywhere along the length, the safety contacts are positively opened and the auxiliary contacts are closed. The switches are mechanically latched and can then only be returned to the operational condition by pressing the blue reset button as required by ISO 13950. An optional 2-color LED indicator is available to enable switch status to be viewed from a distance.
ASK THE "SAFETY-SWITCH SPECIALIST"
Identifying safety components and systems can be difficult, but there are subject matter experts who can help you assess your risks, identify and implement the best, most cost effective safety components that help reduce risk while potentially increasing machine uptime and productivity.
To learn more contact Electro-Matic Products at 248-478-1182 or send us a message today.