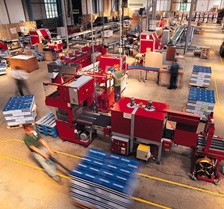 In a competitive market, manufacturers are looking to get more production hours for both gaining an edge and profitability.
Recent advancements made in Specialty Equipment for automation solutions streamline the entire manufacturing process. From robotics to cell manager software, the production line process has made great strides in completing production with greater speed and efficiency.
Advanced automation technologies are largely grouped into three trends that help manufacturers become more productive in a smaller timeframe and with a greater return on their investment:
1. Specialty Equipment Incorporates Features Once Considered "Bonuses"
Smaller, faster, smarter and more cooperative are all aspects of a manufacturing process expected in today's production environment. Here's how the latest technological advancements in specialty equipment helps to boost your bottom line:
Automation

-- Advanced automation is largely due to robotic technology, which has improved task assignments, overall accuracies and faster response times.
Data collection

-- Automated data collection these days is done with the push of single button, when in the past this could only be done manually. This save a lot of time and also substantially lowers the rate for errors.
Energy efficiency

-- Inherent in today's specialty equipment is the capability to make your production line work faster and smarter, which also saves on the amount of energy they use.
Reduced floor space

-- As technology advances, specialty equipment becomes more compact, which saves you the much needed factory floor space.
2. Automation Advancements Improve Reliability & Performance
Implementing advanced automation technology on the shop floor through cell manager software, combined CAD/CAM systems, robotics and other machines allow for less manpower and increased efficiency. Here's how:
Reliability

-- Automation solutions like remote monitoring systems and electronic notification systems provide real-time feedback so you know which machines are working or waiting and are able to send alarms when necessary.
Cycle-time Improvements

-- Advancements like hybrid machining yields positive results the first time so less secondary work is required.
Efficient Communication

-- Combining CAD/CAM packages communication software helps identify bottlenecks and opportunities for improvements throughout the factory system.
3. RFID Products Are Now Used To Automate Machine Setup
RDID-based automatic tool identification and tracking provides significant cost savings by minimizing tool or machine damage, maximizing tool usage and providing you ROI. It's best assets are that it:
Removes Error

-- Automatic tool ID eliminates incorrect data that causes expensive tool crashes, broken spindles, setup errors and bad quality parts.
Saves You Money

-- An RFID-equipped tool presetter maximizes tool life and provides the foundation for an automated tool room and reorder system.
Specialty Equipment in the form of highly integrated automated solutions enable your manufacturing process to move seamlessly from one process to the next with a reliability that hasn't been possible with a manual method. Where advancements in machinery have created other areas of complexity, advancements in software have rounded out the process for a production environment with optimal manufacturing flow.
These advancements in Specialty Equipment allow machines to run unattended, even when the factory lights go out for the day. These trends' key benefit is increased productivity without putting added strain on machine parts or a drain on your manpower.
Ready to learn more about advancements in specialty equipment? Call us today at 248-478-1182 or send us a message to learn more.