In today's rapidly changing production environment, with innovative manufacturing and process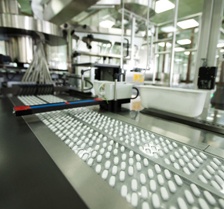 improvements appearing faster than ever, one constant remains: the importance of data and the value in putting it to work for your manufacturing facility.
Enter OEE: overall equipment effectiveness.
When you effectively mine this valuable data, you gain the insight you need to improve production line efficiency, reduce downtime and manufacturing costs, while making profit-producing strides through product quality improvement.
What does this mean in reality? Production bottlenecks become a thing of the past. Your equipment no longer limits the pace of your manufacturing processes. Most of all, OEE provides you with simple, systematic ways of finding budget-wise solutions for process improvements whenever they are present.
Although you might be practicing data collection and calculating OEE now, ask yourself: Are the results meeting your intended targets?
If you're not uncovering the causes of downtime loss, speed loss or quality loss through your own OEE efforts, consider these three critical tips for effectively mining mission-critical manufacturing data:
1. The Right Data
The right data is that set of data you need to make informed, smart decisions for process improvement. In order to guide these important decisions, you need to select, collect and organize the right data for your particular needs.
However, it's unwise to assume the data you are seeking is there to collect, unless it was included in the programmable log controllers (PLC) from process inception.
2. Accurate Data
Accurate data means data that's in its purest, unfiltered form.
The best way to collect data is to grab it directly from the PLC and enter it directly into a database. Otherwise, there is too much room for error. For example, allowing an operator to record data on a clipboard for later input into a database introduces the possibility of manual errors in transcription and input.
3. Timely Data
Timely data refers to data that's available on-demand. Adjusting to unavoidable changes, as they occur requires that information must be available in real time.
It's no longer efficient to manually copy information down, load it into a database and run a report. Delays in data collection presentation directly affect production efficiency.
So how do you mine the data effectively?
Chances are, the information you need resides somewhere in your manufacturing process. Automation solutions experts have industrially hardened, non-invasive OEE data collection hardware and software to access the good, accurate data in real time. It's always best to partner with an industrial automation expert, they help you with the programming, selection and organization of your data. Once your data collection process is set up, you are able to become more diligent about timeliness and accuracy.
When you consider raw data and how it increases your productivity when you manage it correctly, you start to appreciate it as one of your most valuable resources to help make the right decisions regarding overall equipment effectiveness.
To learn more contact Electro-Matic Products at 248-478-1182 or send us a message today.